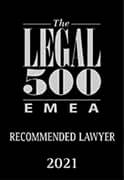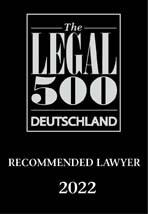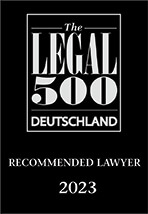 Qualifications
Corinna R. Kuss is a bar certified specialist in transportation and forwarding law
A bar certified specialist is a lawyer with proven expertise and practical experience in a particular area of law. The title is awarded by the Regional Bar Associations after having intensively examined whether the necessary prerequisites are fulfilled according to the Rules on Bar Certified Specialist Lawyers (Fachanwaltsordnung). The lawyer has to demonstrate knowledge and skills in his specialty area reaching far beyond those generally gained during education, training and practical job experience. Prior to achieving the status of specialist, the lawyer has to attend a 120 hour specializing course and pass several examinations. Moreover, the handling of a certain number of cases in the specialized area must be proven. A lawyer bearing the title "bar certified specialist" has to prove every year to have further expanded his expertise to the prescribed extent.
The German Rules on Bar Certified Specialist Lawyers (Fachanwaltsordnung) provide for a bar certified specialist in transportation and forwarding law to demonstrate special knowledge in the following areas:
law on national and cross-border road transport including the law of general terms and conditions and transport insurance conditions,
law on national and cross-border transport by sea, rail and by air,
multimodal transport law,
law on the transport of dangerous goods, including relevant provisions governing penalties and fines,
freight forwarding insurance law,
private international law,
customs law and customs clearance in cross-border transports as well as transfer taxes,
peculiarities of litigation and arbitration
Languages
German, English, French, Italian
CV
Corinna R. Kuss attended the secondary school (Gymnasium)  Steglitz in Berlin as well as the Los Niños Elementary School in Palo Alto, California, and Princeton High School New Jersey.
She studied law at the Freie Universität in Berlin and completed her legal clerkship among other locations in Milan and Rome.
After being admitted to the bar she initially worked for various commercial law firms in Berlin and Cologne. After moving to Cologne she was responsible for national and international contract management at OnVista AG, in particular in purchasing.
Corinna R. Kuss advises and represents German, French, Italian and American industrial and trading companies, insurance companies, logistics providers and freight forwarders as well as airlines and aviation companies.
Memberships
Corinna R. Kuss is a member of the following societies and scientific associations:
"Deutscher Verein für Internationales Seerecht e.V." (German maritime law association)
"Deutsche Gesellschaft für Transportrecht e.V." (German sociaty for transportation law),
"WISTA Women's International Shipping and Trading Association"
"German/Italian lawyers association"
«CIP (Cercle des Intervenants du Transport)», Paris.
"Kölner Klub für Luftsport e.V." (Cologne club of air sports)
Lectures
Corinna R. Kuss holds lectures on a regular basis at specialist events and congresses at home and abroad on issues of business law.
17.10.2018 "Cargo Claims in the European Union – Perspective of US Claimant", Maritime Law Association of the United States, Miami, USA
05.09.2017 "Haftung an den Schnittstellen des PKW-Transportes – Rechts- und Vertragsgrundlagen", Schadenverhütungstagung des Gesamtverbandes der Deutschen Versicherungswirtschaft (GDV), Bremerhaven
25.04.2017 "Haftung an den Schnittstellen des PKW-Transportes – Rechts- und Vertragsgrundlagen", Schadenverhütungstagung des Gesamtverbandes der Deutschen Versicherungswirtschaft (GDV), Bremerhaven
23.10.2015 «DIRITTO DEI TRASPORTI IN GERMANIA», Genoa, Italy
08.07.2014 «DROIT DES TRANSPORTS EN ALLEMAGNE – PARTICULARITÉS DU DROIT ALLEMAND», Paris, France
03.10.2013 «LES PARTICULARITÉS DU DROIT ALLEMAND DES TRANSPORTS», Cercle des Intervenants du Transport, Paris, France
12.09.2012 «DROIT DES TRANSPORTS EN ALLEMAGNE – POSSIBILITÉS D'OPTIMISATION DE RECOURS», Paris, France
19.04.2011 «UNLIMITED LIABILITY IN CASES OF DAMAGES DURING THE TRANSPORT TO / FROM EUROPE / GERMANY», The Marine Claims and Recovery Forum, New York, USA
05.10.2010 «TRASPORTO MERCI ITALIA/GERMANIA-INDICAZIONI PRATICHE DI DIRITTO COMMERCIALE E DEI TRASPORTI», Chamber of Commerce Bologna, Bologna, Italy
05.03.2010 «ASPETTI GIURIDICI DELL'ESPORTAZIONE VERSO LA GERMANIA», Agenzia di Promozione Economica della Toscana, Florenz, Italy
11.12.2008 «REGOLAMENTAZIONE IN GERMANIA DELLE ASSICURAZIONI SUL TRASPORTO: VANTAGGI PER GLI ASSICURATORI ITALIANI», ANIA – Associazione Nazionale fra le Imprese Assicuratrici, Mailand, Italy
16.09.2008 «GESTIONE DEGLI AFFARI IN GERMANIA», Chamber of Commerce Bologna, Bologna, Italy